Virtual Gastric Band


Virtual Gastric Band Doncaster & South Yorkshire
Only available in the Yorkshire & Lincolnshire area. To secure your place click the Paypal link below and we'll contact you a.s.a.p. to book your first appointment. Please remember to include your phone number in your paypal info!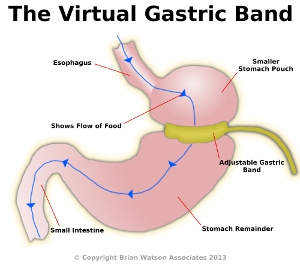 The Vitrual Gastric Band Doncaster & South Yorkshire, brought to you by Brian Watson Associates is a safe, natural and easy weight loss programme that enjoys a 95% success rate*.
There's no dieting, no surgery, no side effects and your are fully supported all the way. Our Virtual Gastric Band 4 week programme works on both a conscious and unconscious level by convincing your subconscious mind that you've had bariatric surgery.
We literally looked at every Virtual Gastric Band programme out there (not only in the Doncaster & South Yorkshire region, but literally world - wide!) before bringing the best to you.
It's the only one to have undergone clinical trials in the world ** and the combined weight loss of clients having been on the programme is a whopping 61, 000 lbs! That's more than the combined weight 10 Asian elephants!
As well as the weekly sessions with your therapist, you'll also receive plenty of support with your:
Free Hypnotic Support CD

Free Virtual Gastric Band Workbook & Guide

Free Personalised CD Created Especially For Your Needs
So, if you're serious about losing weight, looking better and feeling great simply call the number below and book an appointment now!
Call Us Now On:
07519 893 555
*Results based on 2 UK trials. The first trial saw 24 out of 25 candidates
lose an astounding 190lb in 5 weeks. This result attracted the attention of
a General Practitioner in Beverley, East Yorkshire England and a second
trial was conducted with 12 of his patients who had been removed from the
bariatric surgery waiting list on the UK's National Health Services (NHS)
list. Again 95% of the group experienced a positive result.
**Clinical Trials Carried out at Hull University and Hull & York Medical School
Virtual Gastric Band Doncaster | Virtual Gastric Band Doncaster & South Yorkshire © 2013